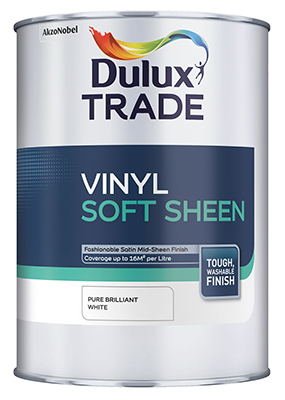 Vinyl Soft Sheen
A top quality, washable emulsion based on unique AkzoNobel technology with a fashionable mid-sheen finish. Where condensation is a problem, for example some kitchens and bathrooms, use Dulux Trade Diamond Eggshell. Suitable for all normal interior wall and ceiling surfaces.
Key benefits
Tough, Washable Finish; Fashionable Mid-Sheen Finish; Coverage up to 16m2 per litre
Datasheets
Application information
Coverage

Up to 16m2 per litre

Touch dry

Dependent on temperature/humidity

Recoatable

2-4 hours

Thinning

This product can be thinned - see datasheet for full details.
Pack sizes
System information
To get the best results with Dulux Trade Vinyl Soft Sheen, make sure surfaces to be painted are sound, clean and dry (new surfaces particularly must be fully dry). See Dulux Trade Datasheet 413 for full information before use, available free on request by telephoning 0333 222 70 70 or visiting duluxtrade.co.uk. Before surface preparation, read the Health & Safety information about old lead paints.
STIR THOROUGHLY BEFORE USE. Seal new or bare surfaces with a thinned first coat of Dulux Trade Vinyl Soft Sheen (up to 1 part clean water to 5 parts paint). The nomal finishing process is 2 full coats of Dulux Trade Vinyl Soft Sheen, but on previously painted surfaces in good condition, where similar colours are used, 1 coat may be sufficient. For best colour consistency, purchase sufficient tinted paint for each job including touch-in at one time from the same source.
After use, remove as much paint as possible from equipment before cleaning with water.