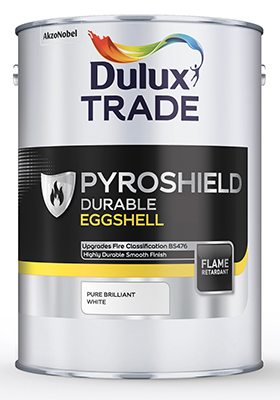 Pyroshield Durable Eggshell
A water-based flame retardant finish that upgrades wall & ceiling substrates of fire classification from Class 3 to Class O* (tested to BS476, parts 6 and 7).
Key benefits
Flame Retardant; Upgrades Fire Classification Class 3 to Class O*; Highly Durable Smooth Finish
*When applied in accordance with manufacturers instructions
Datasheets
Application information
Coverage

Up to 12m2 per litre

Touch dry

Dependent on temperature/humidity

Recoatable

2-4 hours

Thinning

This product can be thinned for use on new or bare surfaces only. Fire upgrade properties will not be achieved without sufficient film build - see datasheet for full details.
Pack sizes
System information
To get the best results, ensure surfaces to be painted are sound, clean and dry (new surfaces particularly must be fully dry). See Dulux Trade Datasheet 546 for full information before use, available free on request by telephoning 0333 222 70 70 or visiting duluxtrade.co.uk. Before surface preparation, read the Health & Safety information about old lead paints.
STIR THOROUGHLY BEFORE USE. In order to achieve fire classification, apply 2 coats at 12m2/l (this equates to 2 coats at a film thickness of 85 microns each). Do not thin. For sealed surfaces it is recommended that the substrate is lightly abraded before application. Over some (sealed) surfaces it may not be possible to achieve the recommended spreading rate on the first coat, and more than two coats may be required to achieve sufficient film build. For best colour consistency, purchase sufficient tinted paint for each job at one time from the same source.
After use, remove as much paint as possible from equipment before cleaning with water.