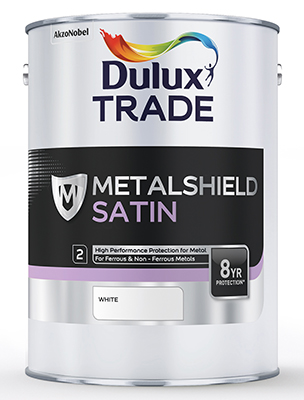 Metalshield Satin
Specially formulated with a quick drying formation that can be over coated within 4-6 hours. It provides protection against corrosion on ferrous and non-ferrous metal substrates such as railings, garage doors, lift shafts, staircases and emergency exit routes. *Applying our straightforward single-pack system: an appropriate Metalshield primer from Dulux Trade and 2 coats of Metalshield Satin from Dulux Trade will deliver up to 8 years metal protection.
Key benefits
8 Year Protection*; High Performance Protection For Metal; For Ferrous & Non-Ferrous Metals
Datasheets
Application information
Coverage

Up to 13m2 per litre

Touch dry

1-2 hours

Recoatable

4-6 hours

Thinning

Thinning not generally required.
Pack sizes
System information
To get the best results, ensure surfaces to be painted are sound, clean and dry (new surfaces particularly must be fully dry). See Dulux Trade Datasheet 541 for full information before use, available free on request by telephoning 0333 222 70 70 or visiting duluxtrade.co.uk. Before surface preparation read the Health & Safety information about old lead paints.
STIR THOROUGHLY BEFORE USE. Apply 1 coat of the appropriate Metalshield primer followed by 2 coats of Metalshield Satin from Dulux Trade. Where a special process colour is to be used, or where a strong colour change is required, additional coats will be needed (see appropriate Dulux Trade colour card). For best colour consistency, purchase sufficient tinted paint for each job at one time from the same source.
After use, remove as much paint as possible from brushes before cleaning with brush cleaner.