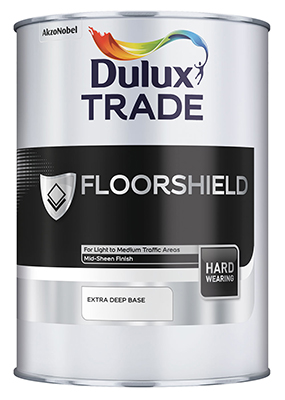 Floorshield
A hard-wearing, single-pack, solvent-based floor paint with an attractive mid sheen finish suitable for concrete, wood and steel. Due to excellent film hardness and erosion resistance, Floorshield from Dulux Trade is capable of standing up to scuffing in light to medium traffic areas, mild chemical spillage and repeated washing. Under normal circumstances, this ensures your environment achieves a lasting, high-quality look.
Key benefits
Hard Wearing; For Light to Medium Traffic Areas; Mid-Sheen Finish
Datasheets
Application information
Coverage

Up to 16m2 per litre

Touch dry

4-6 hours

Recoatable

12-16 hours

Thinning

For sealing new or bare surfaces, add up to 1 part white spirit to 10 parts paint. For normal use, thinning is not usually necessary.
Pack sizes
System information
To get the best results, ensure surfaces to be painted are sound, clean and dry (new surfaces particularly must be fully dry). See Dulux Trade Datasheet 507 for full information before use, available free on request by telephoning 0333 222 70 70 or visiting duluxtrade.co.uk. Before surface preparation read the Health & Safety information about old lead paints.
STIR THOROUGHLY BEFORE USE. New or bare porous surfaces must be sealed with a thinned coat of Floorshield from Dulux Trade (up to 10% white spirit). The normal finishing system is 2 coats of Floorshield from Dulux Trade. Note: Do not use in areas of heavy industrial use, aggressive environments, car showrooms, floors that are in prolonged contact with simultaneously hot & wet vehicle tyres or power float/case hardened concrete that has not been treated with acid etch or a mechanical method of roughening up the surface. In addition please do not use in combination with silicate hardeners, Terrazzo and Granolithic or substrates that have not fully dried out or do not incorporate an effective damp-proof membrane. This material is intended for domestic/light industrial/commercial situations. Some concrete floors may take up to 12 months to dry in depth. For a high performance floor paint contact the AkzoNobel Technical Advice Centre. For best colour consistency, purchase sufficient tinted paint for each job at one time from the same source.
After use, remove as much paint as possible from brushes before cleaning with brush cleaner.