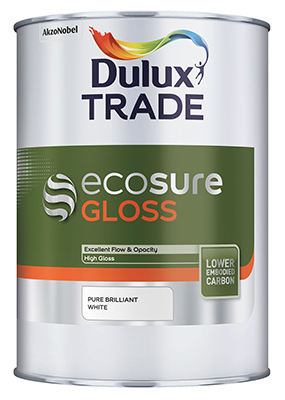 Ecosure Gloss
Specifically formulated to have a demonstrably lower environmental impact than standard Dulux Trade products*, whilst maintaining the highest possible standard of quality and performance. Ecosure Gloss from Dulux Trade is a professional quality, quick drying and high sheen finish with good flow and application properties. Good durability and resistance to yellowing ensure this product is suitable for use on interior wood and metal surfaces. For best results, use in conjunction with Ecosure Undercoat from Dulux Trade.

*Lower environmental impact is measured by a reduction in VOC and embodied carbon. Using Ecosure Gloss and Undercoat as a two-coat system reduces the embodied carbon by 30% compared to standard Dulux Trade High Gloss and Undercoat, as measured by Environmental Impact Analyser. This has been developed in conjunction with Forum for the Future - the leading sustainable development charity.
Key benefits
Lower Embodied Carbon; Excellent Flow & Opacity; High Gloss
Datasheets
Application information
Coverage

16m2 per litre

Touch dry

Dependent on temperature/humidity

Recoatable

6 hours

Thinning

Thinning is not usually necessary but if required add up to 1 part of clean water to 10 parts of paint.
Pack sizes
System information
To get the best results, ensure surfaces to be painted are sound, clean and dry (new surfaces particularly must be fully dry). See Dulux Trade Datasheet 527 for full information before use, available free on request by telephoning 0333 222 70 70 or visiting duluxtrade.co.uk. Before surface preparation, read the Health & Safety information about old lead paints.
STIR THOROUGHLY BEFORE USE. Apply 1 or 2 coats of Ecosure Undercoat from Dulux Trade as required, followed by 1 or 2 coats of Ecosure Gloss from Dulux Trade. Where a strong colour change is involved 3 coats will be required. Newly painted doors and windows should not be closed (tightly) until the paint is fully dry. For best colour consistency, purchase sufficient tinted paint for each job at one time from the same source.
After use, remove as much paint as possible from equipment before cleaning with water.